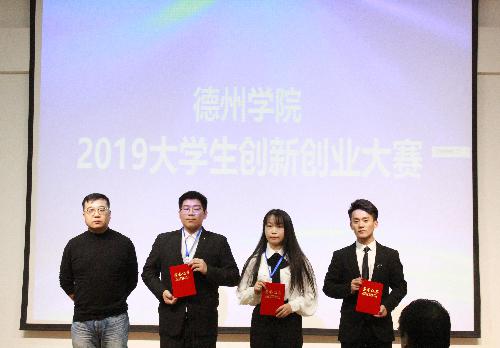 On the afternoon of December 3rd, the final of the Second College Student Innovation and Entrepreneurship Contest of Dezhou University was held in the Road Show Hall of "Seven O'clock Entrepreneurship Valley".

The theme of the contest is "Endless Innovation, Sailing Dreams". The contest is divided into creative and entrepreneurial groups. After the preliminary selection of various colleges and the preliminary evaluation of the network, a total of 20 teams in the creative group and 7 teams in the entrepreneurial group participated in the roadshow finals. The contest invited five senior entrepreneurial instructors to serve as judges. They are Du Kun, manager of the tertiary industry market of Yaxuan Group and the general manager of Haoke Media; Ge Yanfeng, general manager of the provincial-level technology business incubator automobile town; Tian Xin, the general manager of the national mass innovation space and the dream entrepreneur and the second level entrepreneurial consultant; Peng Wensong, vice president of Dezhou Professional Managers Association and college student career planner; and Qu Yanhua, Inspur Group's Dezhou City Manager and Dezhou Inspur Big Data Center Manager.
After nearly 5 hours of fierce contest, 2 first prizes, 3 second prizes, 7 third prizes, and 8 outstanding prizes in the creative group, were finally decided; 1 first prize, 2 second prizes and 4 third prizes and 23 outstanding instructor prizes in the entrepreneurial group were finally decided. Among the projects, "Design and development of Jubo APP--a museum on the fingertips" from School of History and Social Management, and "Highly sensitive graphene methane sensor" from School of Physics and Electronic Information won the first prize in the creative group. The project "Shandong Zhesi Study Travel Co., Ltd." from School of Resources, Environment and Planning won the first prize in the entrepreneurial group. The judges made comments on the contest. After their comments, students found their shortcomings, clarified their entrepreneurial direction, understood how to get the project to the ground, and were confident about their future entrepreneurial path.